Wallets for Father's Day: Personalized Gifts Dad Will Love
Shopping for your husband, boyfriend, or family member is easy when you come to MANCINI Leather Goods. Our men's leather wallets are practical, stylish, and above all, long-lasting. We're your trusted source for the Father's Day gift hunt. 
We live in a throw-away society, so when you can find a great gift that will last for decades (with good maintenance), it's a treasure to cherish! Browse for a personalized gift that has the right colour and features Dad wants in a wallet. 
And the best part? We've got a special sale on now, meaning as long as you enter promo code "Father30," you get 30% off all men's products!
A Unique Gift for Father's Day
A personalized wallet for Dad makes for a great keepsake and trusty companion. MANCINI is known for their products' vintage appearance, which are timeless and versatile.
There are so many types of Dads out there, from the rugged adventurer to the sophisticated city dweller. MANCINI offers various collections that capture the right essence for him. 
Here are a few are our handmade genuine leather collections:
Boulder
Featuring top grain cowhide leather, this contemporary leather wallet is fashioned with RFID wave-blocking technology for the ultimate in data cand card security. This wallet allows your cards and bills to remain in your wallet with its zipper feature.
For the man who likes to make fast purchases at the check-out counter, this is the perfect wallet! It's designed with 10 credit card slots and a separate section for bills. If you don't need the two ID card windows, you can easily remove them. This handmade vintage wallet can also be a great gift for when he travels the world.
Equestrian-2
These days, leather wallets need to contain RFID blocking material for data protection. This deluxe wallet includes special metallic layers integrated into the 10 card sleeves.
With its convenient size, this soft, genuine top grain leather wallet allows you to tuck bills into it as you travel to the cabin or head to the corner store. It features a snap enclosure so that you know it's closed. What makes this wallet a unique gift is its coin pocket for the old-fashioned Dad who still likes to use hard cash sometimes.
Another classic Father's Day gift is this breast pocket wallet made of fine top grain leather. It's a favourite of the Equestrian-2 collection for its compact design, 24 RFID-protected card slots, and four bill sections that can also fit a cheque book, tickets, and receipts. It's the perfect solution for the Dad who likes his wallet close by and within eyeshot. This personalized wallet is the perfect gift for a man who has a casual-chic elegance and debonair manner.
Casablanca
Whether he's a fan of the movie or has a love for durable genuine leather personalized wallets, this trendy and urban-chic option can make for a great Father's Day gift.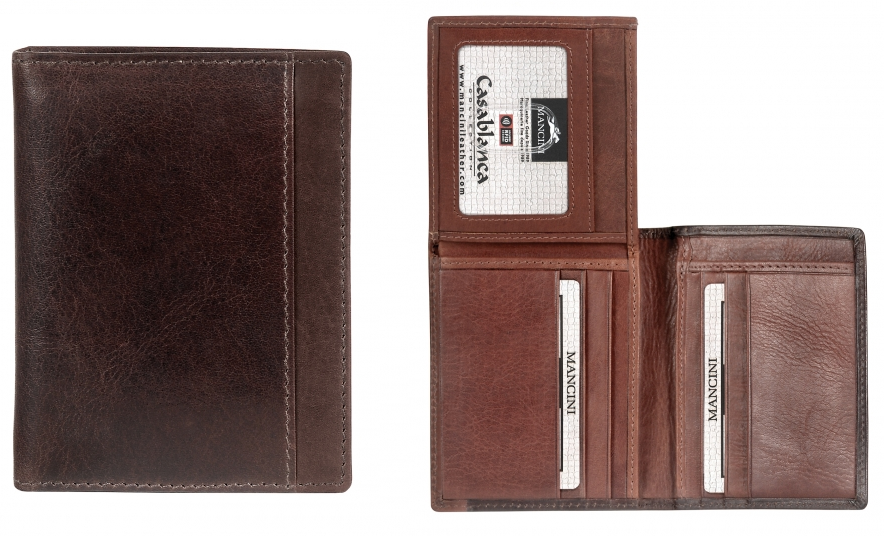 Fabricated with full grain oily waxy cowhide, this gift can be slipped into the back pocket or inner jacket pocket for convenience. Dad can carry up to 10 credit cards in this unique vertical wing wallet without having to worry about electronic theft because it includes RFID wave-blocking technology. Additional features include a single ID window and a bill section. It's the perfect choice for the Dad with a more casual attitude who works, studies, and finds time for the family. 
Note: The personalized men's leather wallet you choose from MANCINI may come in other colours.
Find the Perfect Leather Wallet for Him
A Father's Day gift needs to be made of great quality and be something he'll love because it matches his style. When you order one of the leather wallets above, they will arrive expertly wrapped in a gift box. All that's missing is a special message from you! 
Aside from a personalized message, you could include tickets to an event, a small token of appreciation, or even a note with a secret rendezvous. Want to keep looking? We have plenty of other leather wallets, as well as a variety of bags and accessories. 
Complete your Father's Day shopping today with MANCINI! Don't forget that orders over $100 qualify for free shipping.